This article is for the T3H Metroid Galaxy character. For the T3H Metroid Galaxy issue, see Dark Samus (Issue).
Dark Samus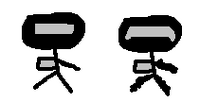 Dark Samus (left) and Dark Samus's later form (right) from T3H Metroid Galaxy
Statistics
Name
Dark Samus (later "Ultimate Dark Samus")
Gender
None
Status
Alive (Vaporized by Mother Brain, destroyed by Samus, blown up by Samus, permanently killed by Ridley but reincarnated)
Alignment
Villain
Profession
Henchman for Future Writer, formerly neutral party
Dark Samus is a main character of the series.
Appearance
Edit
Dark Samus look like Samus (a stick figure with a rectangle where the forward facing arm should be, a helmet with a rectangular visor starting at the front edge and ending right before the back edge), but has a black helmet and grey visor. When Dark Samus mutates, it gets jagged spikes along its arms and legs and a slanted visor.
Dark Samus first appears in the issue of the same name, killing Stupid. Dark Samus sticks everyone to a wall and attacks Mother Brain. Mother Brain later destroys Dark Samus. Dark Samus later reforms as Metroid Prime, but is forced to return to its Samus-like form whereupon Samus kills it again. Dark Samus makes its final appearance in season 3, where it mutates and is killed by Samus once and for all. However, Dark Samus is later reformed by the Future Writer and is sent to retrieve the Jewel of Power from Samus. Dark Samus shoots and kills Dracog and Mother Brain, causing a vengeance-stricken Ridley to kill Dark Samus with a blast of fire.
Community content is available under
CC-BY-SA
unless otherwise noted.