This article is for the T3H Metroid Galaxy character. For the actual Nintendo character, see Aurora Unit#Mother Brain.
Mother Brain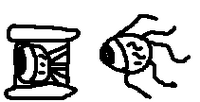 Mother Brain in her tube (left) and out of her tube (right) from T3H Metroid Galaxy
Statistics
Name
Mother Brain
Gender
Female
Status
Alive (Eaten by Metroids, killed by Oprah, permanently killed by Dark Samus but reincarnated)
Alignment
Villain/Anti-Hero
Profession
Evil genius, leader of Space Pirates
Mother Brain is a main character of the series.
Appearance
Edit
Mother Brain looks like a large veined eye in a glass tube. The side of Mother Brain's eye/head is usually shown, rather than the front. When out of her tube, Mother Brain floats, and has thin tentacles dangling from her eye/body that don't appear to do anything.
Mother Brain is introduced as the employer of Ridley and Kraid, and is shown as only being able to speak leet. However, towards the end of the first season, Mother Brain reveals that, when out of her tube (which she can apparently break out of at will), she can speak normal English. She is also somehow able to move when in her tube, which has no shown way of moving. Mother Brain is eaten by Metroids at the end of season 1, but reincarnates and was currently floating in the ocean after abandoning her ship, the S.S. Metroid, but reappeared to participate in "the race". Later, she helps Samus and the others in their quest to stop the Future Writer. She is killed permanently when she is shot by Dark Samus, but not before disabling the Future Writer's superlaser.
Community content is available under
CC-BY-SA
unless otherwise noted.